Self adhesive bitumen/self adhesive asphalt waterproof membrane
Brand" STAR FORCE" SBS flexible modified asphalt waterproof membrane use SBS (styrene-butadiene-styrene) thermoplastic elastomer modified asphalt as dip-coating material, with high-quality polyester felt, glass fiber felt, glass fiber reinforced polyester felt as base material, using fine sand, mineral pellets, PE film, aluminum film, etc as release liner, the SBS flexible modified asphalt waterproof membrane agitated and ground by special machine.
Thickness:
1.2mm, 1.5mm, 2.0mm
width:
1m
Length
10m
The specifications can be customized by the buyers' requirments.
Specification for Self-Adhesive Bituminous Waterproof Membrane:
No.
Items
I
I
PYG
PY
G
PY
G
1
Solubale Substance, g/m²≥
3mm
2100
-
4mm
2900
-
5mm
3500
2
Impermeability
Pressure, Mpa≥
0.3
0.2
0.3
Keep time, min≥
30
3
Heat Resistance
90ºC
105ºC
No flowing or dripping
4
Nai Tear Resistance (N/50mm)≥
500
350
800
500
900
5
Elongation Max. Tension,%≥
30
-
40
-
-
6
Low Temperature Flexibility ,ºC
-20
-20ºC
No cracks
10
Heat Aging
Tension Retention,≥
80%
Low Temperation Flexibility
-15ºC
-20ºC
Appearance
No slipping, flowing or dripping
11
Executive Standard
GB18242-2008
Features:
1) Safe, easy and fast installation, no naked flame, no binder, no pollution.
2) Excellent adhesive performance, self-healed property.
3) Anti-puncture, anti-tension, good elongation, anti-corrosion.
4) Good flexibility under low temperature.
5) Widened membranes can reduce loss.

Application:
1) Industrial and civil building roofing, underground, pool, tunnel, wooden and metal roofing.
2) Especially in the chemical factory, garment factory, and granary.
3) Tape can be used for sealing all construction material
4) Waterproof treatment of structural construction joints, overlap sealing of polymer waterproof membrane.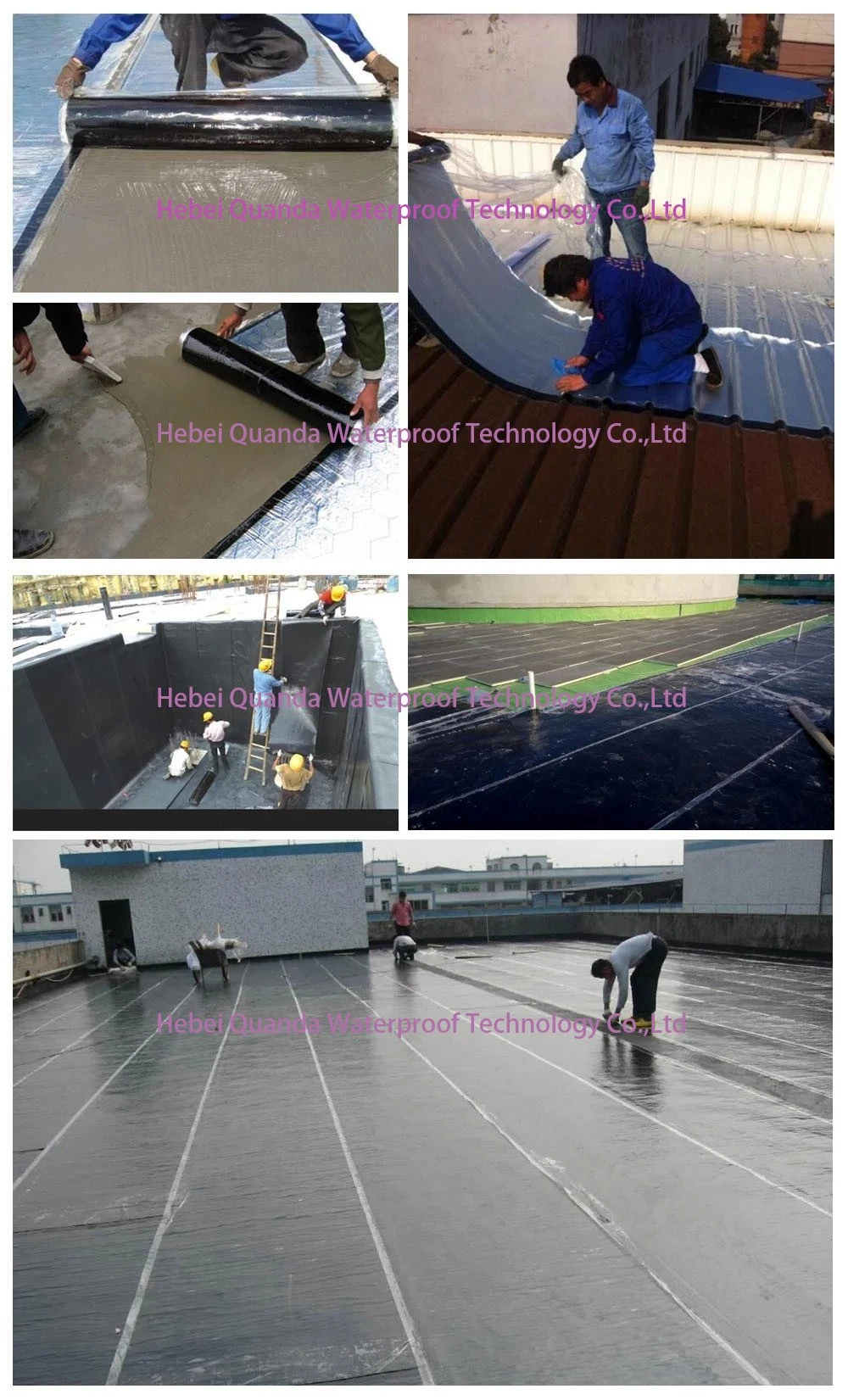 Construction Method:
Step1: Ensure all surface are clean,dry and dust-free. Remove any loose particles and any rust with a wire brush & soft broom.
Step2: Roll out the membrane.
Step3: Remove the backing paper and place the adhesive side to the previously prepared surface.
Step4: To ensure a tight contact-smooth the tape down with a dry cloth, remocing all the air bubbles;
Step5: Press the tape to the surface firmly once in position.
Step6: Smooth flat all edages with a wallpaper roller or trowel.
Step7: After use reseal pack and store upright in cool,dry condition.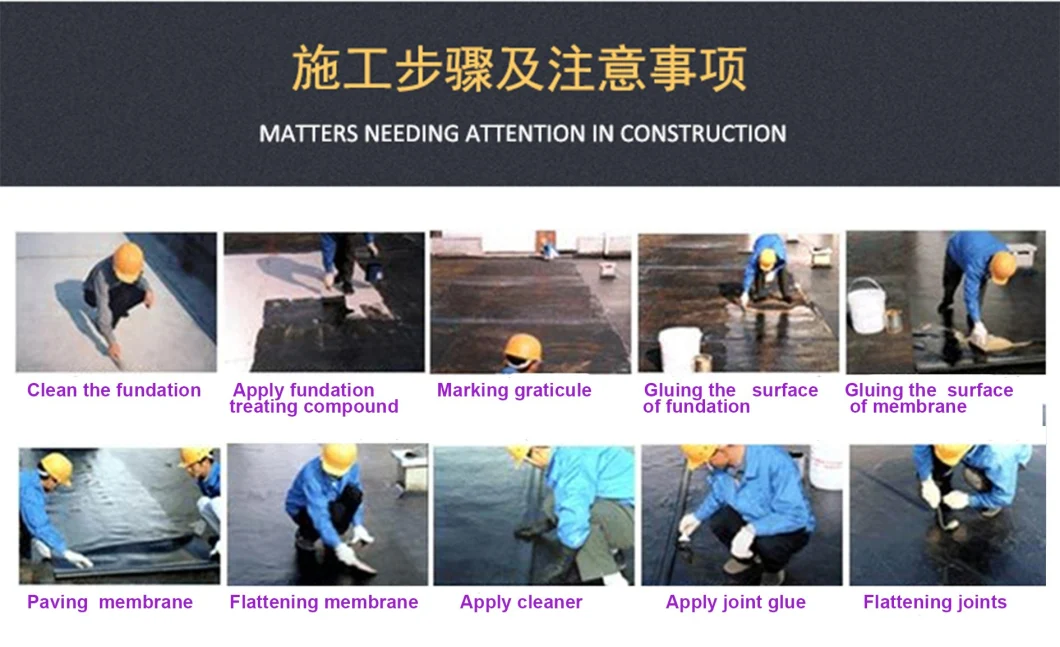 Storage and Transportation:
1) Separate storage for different models.
2) Temperature should be below 50 ºC.
3) Avoid direct sunshine, rain, keep ventilated.
4) Do not piled horizontally, keep stand vertically and not more than 2 floors.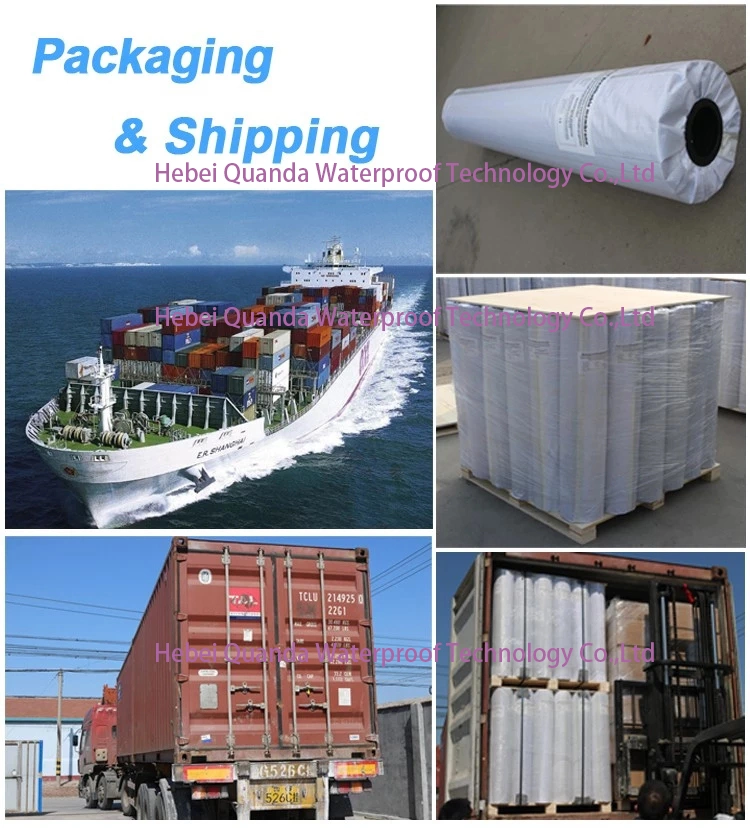 Certificates: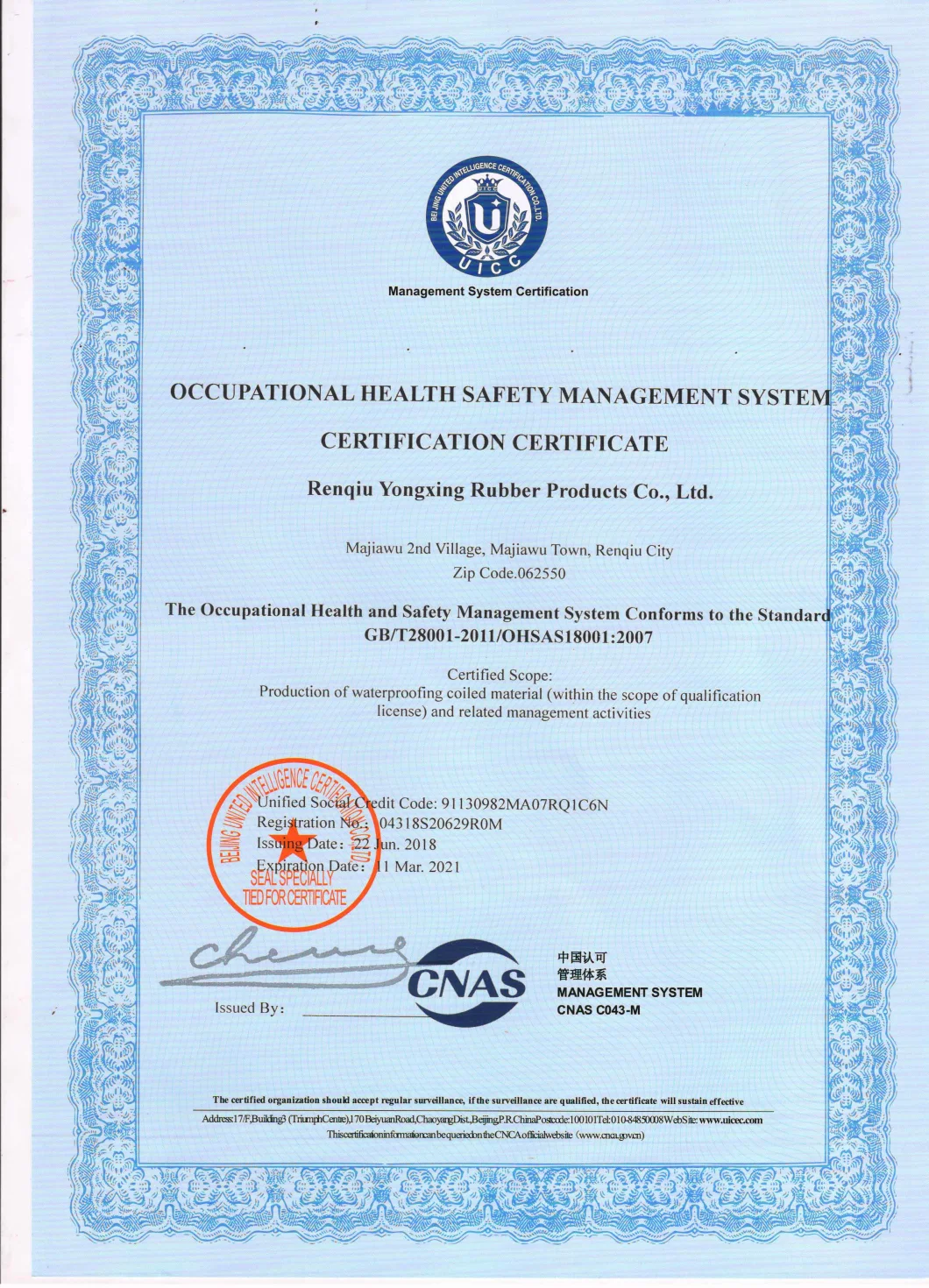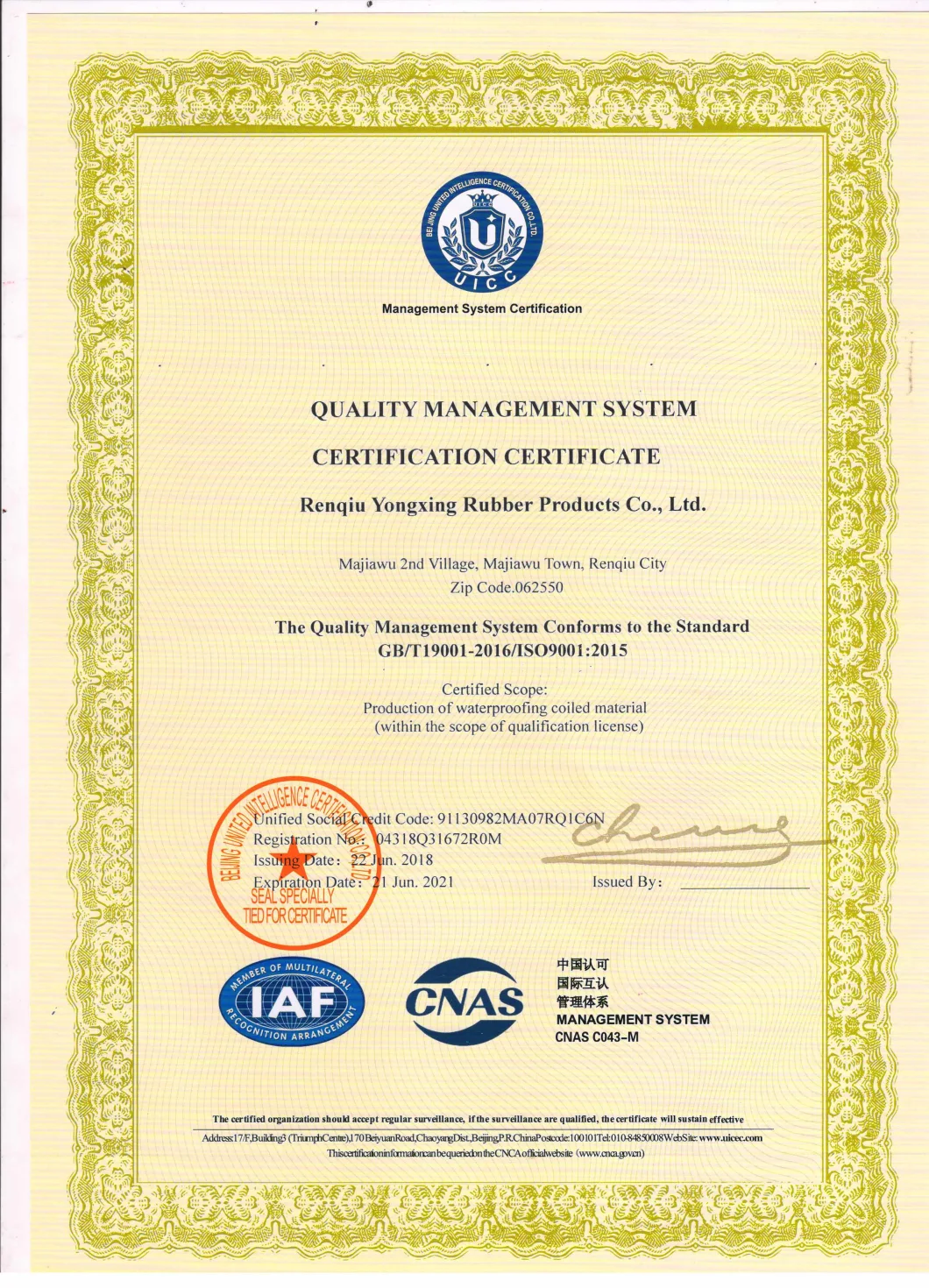 FAQ:
Q : Why choose us ?
A: We are professional manufacturer ,and we can provide the best product ,competitive price and excellent service.
Q.Can you send samples to us?
A: Yes,we can provide free sample for quality inspection.According to our company police , you should assume the freight ,and we will return the freight if you place the order.
Q.What about the delivery time?
A: 5-7 days after receive the deposit or LC at sight
Q:Can we visit your factory to inspect the goods for the order?
A :Welcome to visit our factory to inspect the quality.We sincerely hope to establish a honest business relationship.
Our Services:
1. Our warranty period is one year against the date of shipment.
2. Free samples of waterproof membranes are available for your closer checking.
3. Well trained and experienced sales person to help you with any of your questions.
4. Strong technical support.
5. We will handle with each piece of document which are necessary during export to abroad and try our best to provide any special required documents in destination customs, such as the certificate of origin and etc.