360L Single Door Display Cooler 110V60HZ Beverage Cool Fridge For Amercian countries
Factory Model

LC-200

LC-230

LC-250

LC-280

LC-360

Gross Volume (L)

200

230

250

280

360

Net Volume (L)

180

215

235

266

310

Storage Temperature

2

-

10

ºC

2

-

10

ºC

2

-

10

ºC

2

-

10

ºC

2

-

10

ºC

Power Voltage / Frequency

110V/60HZ
220V/50~60HZ
110V/60HZ
220V/50~60HZ
110V/60HZ
220V/50~60HZ
110V/60HZ
220V/50~60HZ
110V/60HZ
220V/50~60HZ

Refrigerant

R134a

R134a

R134a

R134a

R134a

Foaming Agent

C5H10

C5H10

C5H10

C5H10

C5H10

Foaming Thickness

45mm

45mm

45mm

45mm

45mm

Power Plug Type

optional

optional

optional

optional

optional

Inner Fan Type & Number

Air fan / 1

Air fan / 1

Air fan / 1

Air fan / 1

Air fan / 1

Condensor Type

Inside / outside

Inside / outside

Inside / outside

Inside / outside

Inside / outside

Evaporator Type

Inner wall

Inner wall

Inner wall

Inner wall

Inner wall

Temperature Controller

manual adjust

manual adjust

manual adjust

manual adjust

manual adjust

Climate Class

ST

ST

ST

ST

ST

Defrost

Manual

Manual

Manual

Manual

Manual

Door Type & Number

pull / 1

pull / 1

pull / 1

pull / 1

pull / 1

Handle Material & Color

plastic / white

plastic / white

plastic / white

plastic / white

plastic / white

Shelf Type & Number

Wire / 4

Wire / 4

Wire / 4

Wire / 4

Wire / 4

Foot Type & Number

Roller wheel / 4

Roller wheel / 4

Roller wheel / 4

Roller wheel / 4

Roller wheel / 4

Door Panel Material & Color

glass / transparent

glass / transparent

glass / transparent

glass / transparent

glass / transparent

Door Frame Material & Color

plastic / white

plastic / white

plastic / white

plastic / white

plastic / white

Exterior Cabinet Material & Color

metal / white

metal / white

metal / white

metal / white

metal / white

Interior Cabinet Material & Color

aluminium / white

aluminium / white

aluminium / white

aluminium / white

aluminium / white

Dimension Product (W*D*H mm)

505*565*1760mm

555*565*1760mm

555*565*1900mm

600*565*1940mm

645*605*1980mm

Dimension Package (W*D*H mm)

550*610*1770mm

580*610*1770mm

580*610*1910mm

650*610*2000mm

685*645*2020mm

40'HQ Quantity (pcs)

101

101

100

74

71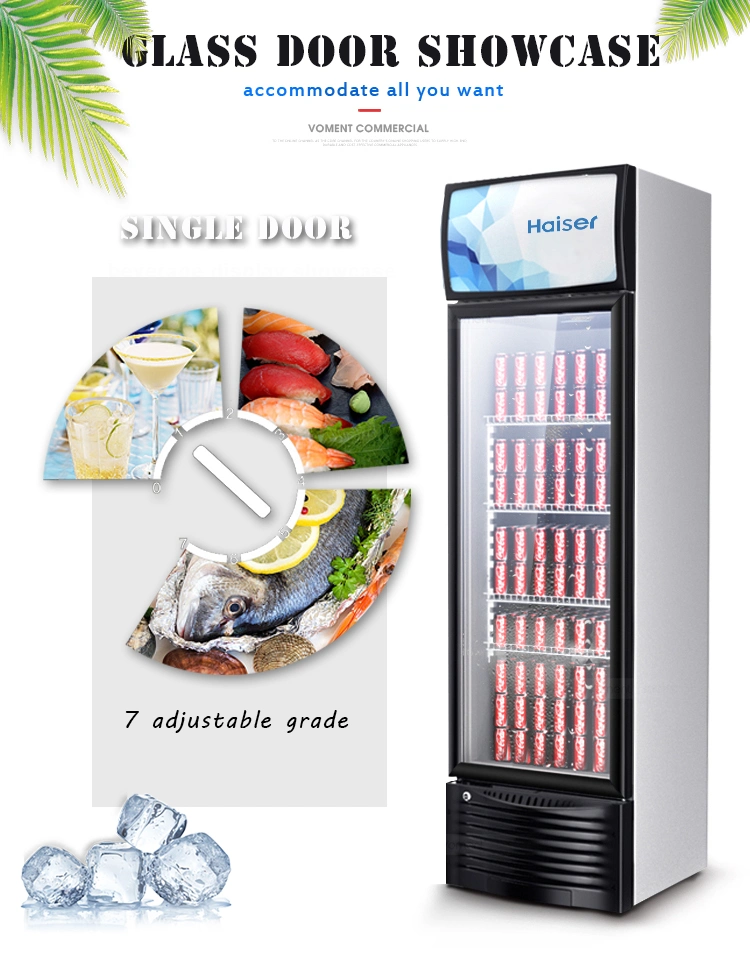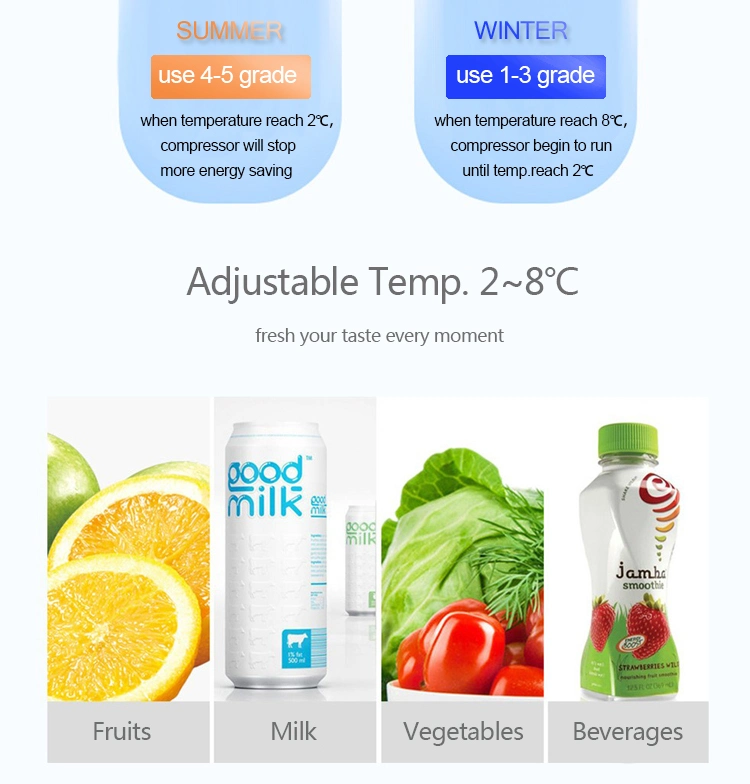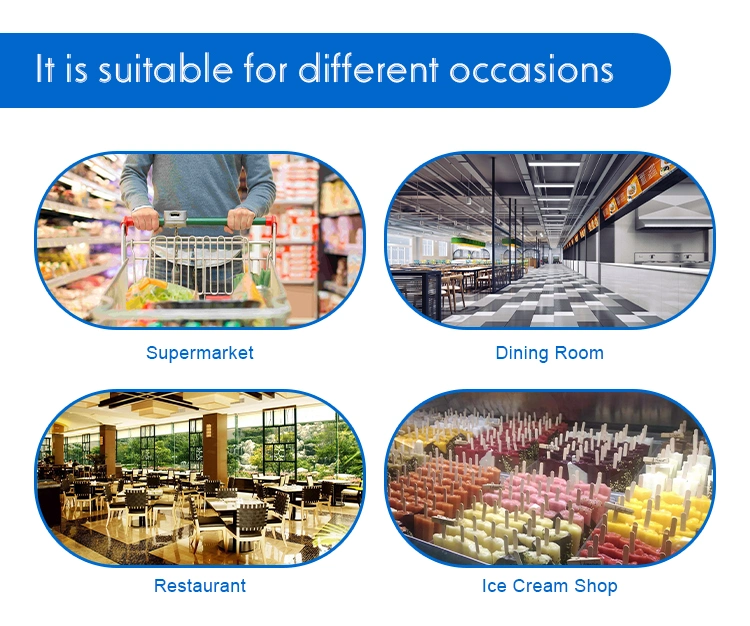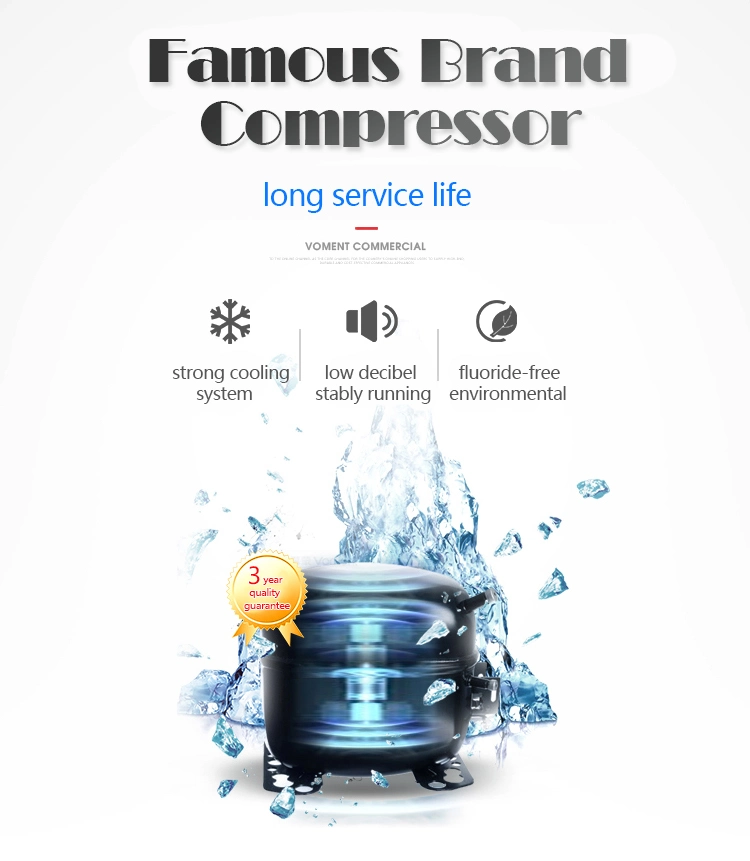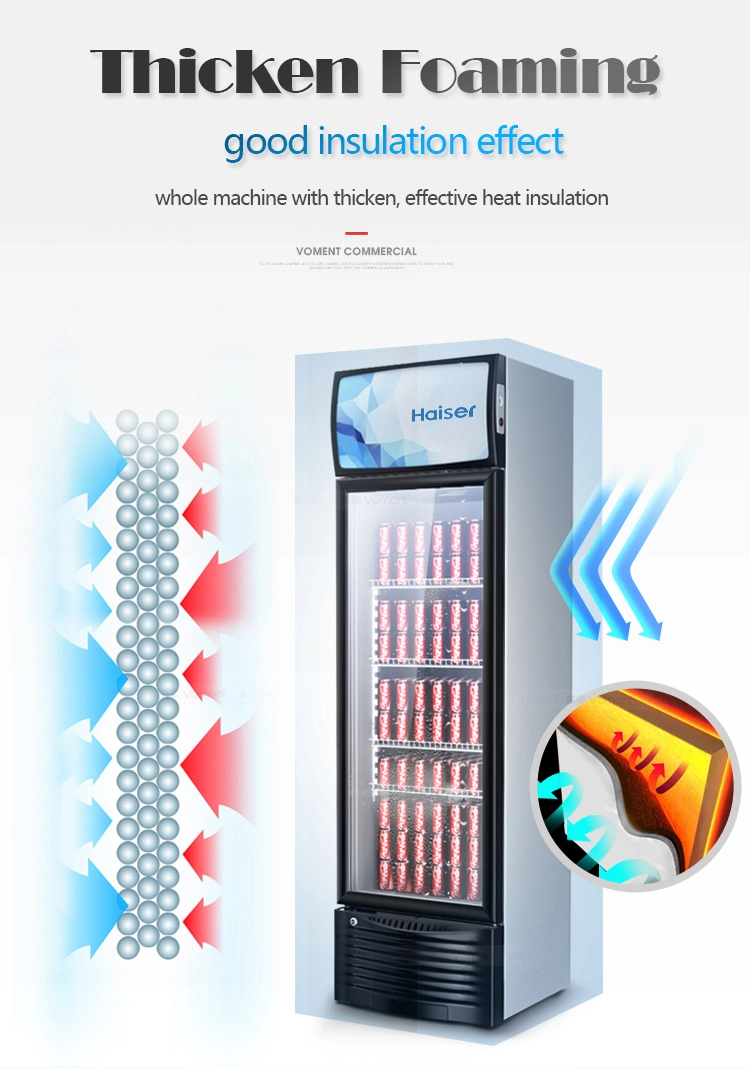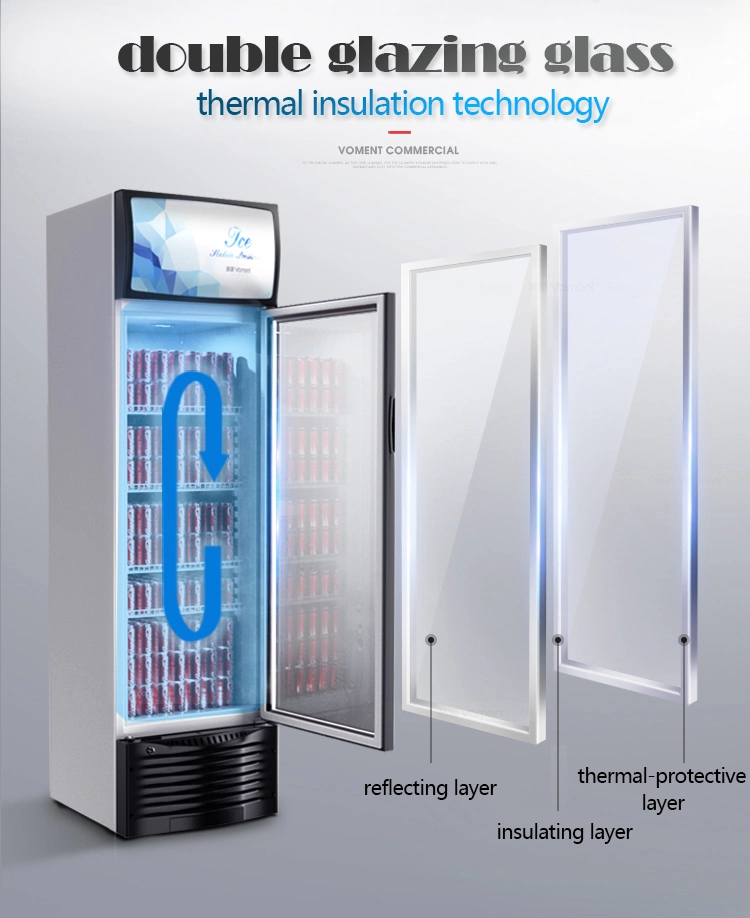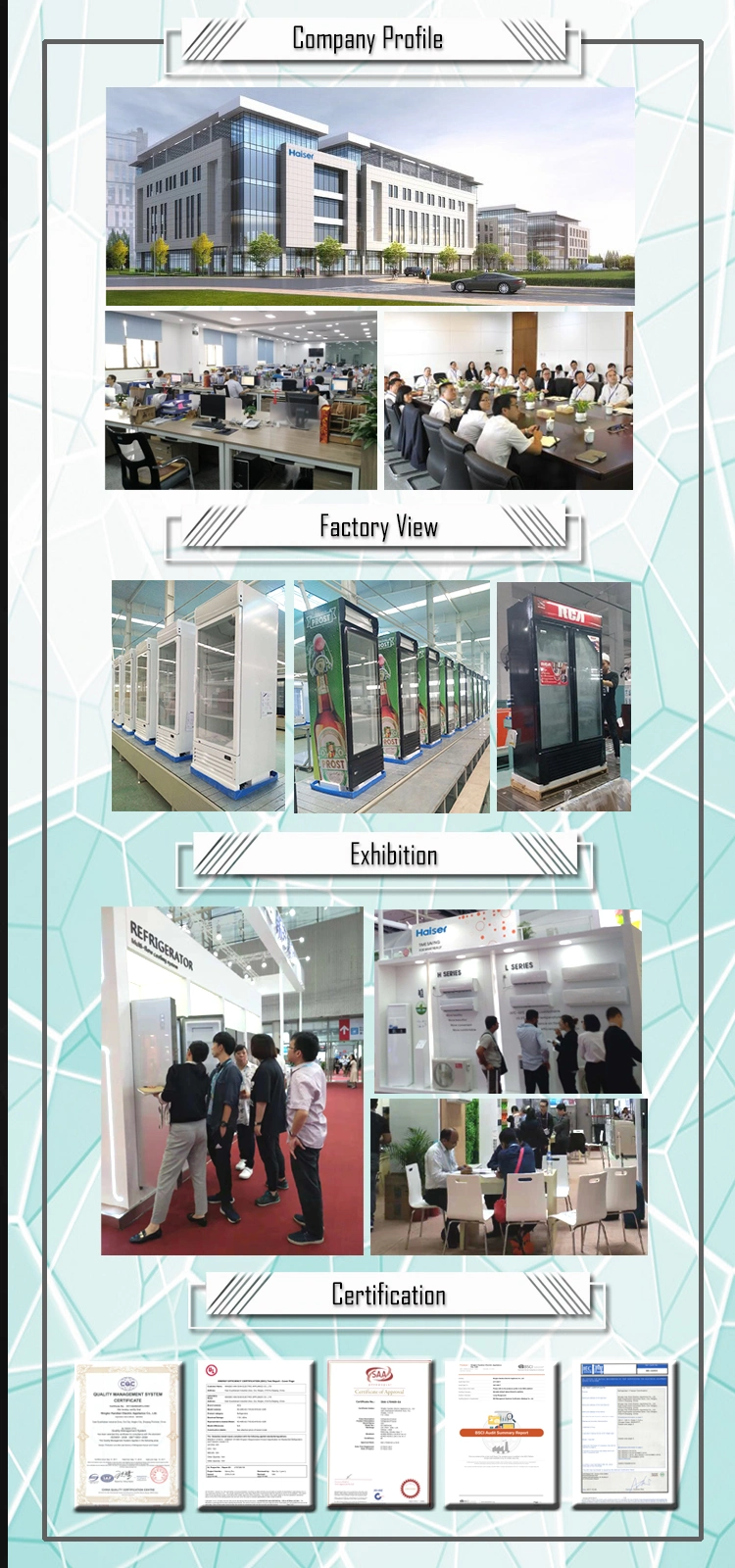 FAQ
Q1: Are you manufacturer or trading company?
A: We are a professional manufacturer over 15 years.We mainly provide refrigerator, split air conditioner, washing machine ,ice cream freezer, chest freezer,open air cooler, cake showcase and four side glass door showcase.
Q2: what optional accessories can you provide?
A: We can provide optional famous brand compressors, prinit your own brand/logo, R134a or R600a, 110-240v, 50/60Hz, outside or inside condenser, compressor fan, sticker, LED light, white/black/gold color, handles, filter holder, Auto evaporation. 1% free parts.
Q2: Can you provide sample?
A: Yes, we can provide sample but customer should pay cost of sample and freight charge.
Q3: How long delivery time?
A: It depends on your quantity.Generally, it takes 30-35 days after receiving your deposit.
Q4: What are the payment terms?
A: We usually accept payment by L/C, T/T, Western Union, Money Gram, and Paypal.
Q5: Can you do OEM logo?
A: Yes,we can do OEM logo for you for free. You can provide us logo design.
Q6: How do you ensure the quality products?
A: We are strictly focus on quality control. All goods are 100% inspected before shipping. We do at least 3 tests, including in-coming raw material test, sample test then bulk production.
Q7: This is my first time to import, how can I trust your company and ensure to get the goods if I order from you?
A: We are alibaba legitimate certification company, and we support payment terms like T.T and L/C, Trade Insurance to ensure your safety. Meanwhile we have more than 15 years of exporting history with our customer covering worldwide.
Q8: How about your quality warranty ? And do you supply spare parts?
A: Yes, we provide 1 year warranty, main parts 3 years warranty. and we always provide spare parts.
Q9: How about the after-sales service?
A: We have a big after-sales team, if you have any problems, please tell us directly and we will try our best to solve all of your problems.
Q10: what brands have you cooperated with?
A: A: In Europe , we supply our goods to Schneider, Auchan, Carrefour,BUT,PKM etc.
In USA we supply our goods Black & Decker, Avanti, CE international Walmart,homedepot etc.
In Africa: Nuworld, Assudamal, West Point etc.
In Middle East: Akai, Super General, ELEKTA etc.
In Australia: GVA
In china market, we provide OEM for Haier, KONKA, AUX, MIDEA,MEILING.TCL,LG, SAMSUNG etc.
Contact

We will reply your email or fax within 24 hours
You can call us at any time if there is any question on our production.

If you want to know more information, pls contact us without hesitate.